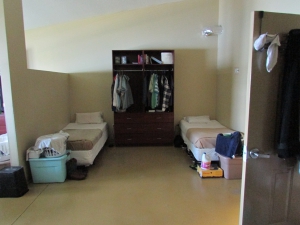 If you have been accepted into our program, keeping in mind that this is a temporary housing facility, you can NOT bring everything you own. There is very small space for personal items. Essentially, each bed has about 3ft of hanging space, 3 dresser drawers, and 1 foot locker. You should just bring the bare minimum and if you find that you need something else, your family can bring it or you can purchase it later. But, we will not allow you to acquire too much here. If in doubt about something, just call and ask us.  However, we do provide all bed linens, pillows, and bath towels.
The following is a list of suggested items you should bring:
Nice clothes and shoes for job hunting and church (a collar shirt [dress preferred]) or a good polo.  Slacks and/or nice jeans without holes.
Shorts and T-shirts for hanging out and sleeping in (no shirts that advertise or promote alcohol, tobacco, music, or sexuality).
Sneakers and Flip-flops
Alarm clock that does not play music (battery-operated preferred)
Board shorts if you plan to swim or play volleyball by the lake (at your own risk)
Toiletries that include but not limited to: Shaving gear, toothpaste & toothbrush, liquid bath soap, and shampoo (travel size is preferred)
Liquid laundry soap
Petty cash (optional, but a new client is allowed a one-time petty cash allowance up to $100–however the average is around $50).  Petty cash is usually useful for laundry, bus passes (for job purposes), and snacks & soft drinks (from the vending machine).
The following is a list of items that you should not bring:
Laptops and/or computers
Pornography or similar content not suitable in a Christian program
Clothes that advertise or promote alcohol. tobacco, sex, gambling, or music
Powdered laundry soap